The SOLID BRASS ensemble has given numerous workshops, clinics and concerts to college, high school and young audiences, performing for over 200,000 students and educators in nearly 300 schools.
SOLID BRASS is again touring the schools in New Jersey during the new school year with its new educational programs. A quartet with percussion ("Beat the Brass") will present a forty minute program designed for grades K through 8 (adaptable for High School). SOLID BRASS collaborated with Project Impact for twenty seasons bringing music to students of all ages prior to their closing in 2013.
Beat The Brass - Part 1
What to Listen for in Music: The Elements
What do Sousa and Saint-Saens, Dixieland, and Disney have in common? They're all included in the richly diversified repertoire of SOLID BRASS, the acclaimed brass and percussion ensemble. This program has three goals: to introduce students to the brass and percussion instruments, to present the basic building blocks of music (melody, harmony, bass, and rhythm), and to provide historical perspectives of the music to contemporary student understanding. Musical selections include Jurassic Park, The Lion Sleeps Tonight, Beauty and the Beast, Lassus Trombone, The Elephant (from Carnival of the Animals), Semper Fidelis, Music of J.S. Bach, a game of Name That Tune, and a medley Aladdin and The Flintstones.
Beat The Brass - Part 2
What to Listen for in Music: The Forms
This second program investigates the architecture of music and includes various sectional, fugal and rondo forms.
The goal of the next several programs is to combine two curricular areas, music and social studies, to pique students interest so that they continue to study and learn. The group weaves historical anecdotes into their musical numbers and using PowerPoint Presentations, humor and student participation, gives youngsters an insight into the creation and development of our country and, says Doug Haislip, how we came to be what we are. Part of our mission is to bring joy to students through music, show them how music can be a powerful part of their lives and how they can have fun with it.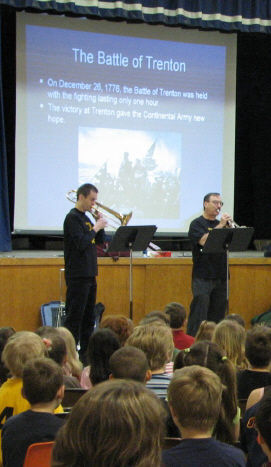 A Musical History Tour of New Jersey
This third program introduces the history and famous people of New Jersey in a delightfully new and refreshing way. This program is an adventure into the broad scope and breadth of a brass quartet's repertoire of lively marches, jazz, rock, movie themes, and patriotic tunes. The musicians will illustrate the early history of New Jersey from the Lenni Lenape and the American Revolution to current day sports and science. A review of the trumpet, trombone, tuba and horn will include a description of sound production. Various percussion instruments will be presented for the richness in color they provide musically. Historic perspectives of the composers and society are incorporated into the performance to enhance student understanding. Students are asked to participate. This is a PowerPoint/multimedia presentation.
Meet The Presidents
Meet the Presidents takes a look at the history and folklore of the men who have shaped the destiny of this great country. Using the music of their era, we explore their decisions, speeches and hobbies. George Washington, Thomas Jefferson, Abraham Lincoln, Woodrow Wilson, Dwight David Eisenhower, and John F. Kennedy are featured in this program. We believe this creative approach of linking the arts to other areas of the curriculum is a vehicle to help promote an enthusiastic interest in music and history.
Out of Many, One
THE STORY OF IMMIGRATION
In this program, SOLID BRASS embarks on a fresh approach to the history and folklore of the men, women and children who left everything to immigrate to this Great Country. From their travel to and their experiences at Ellis Island, we look at the adventure of those who have helped to shape our nation's destiny. Using music of their era, PowerPoint Presentations, humor and student participation, children will gain an insight into the greatest experiment in freedom and liberty the world has known. A review of the brass instruments will include a description of sound production. Various percussion instruments will be presented for the richness in color they provide. The following musical selections will be included: This is My Country, Sea Songs, Amazing Grace, Do Re Mi, Schindler's List, America from West Side Story, America the Beautiful, and God Bless America. Show length is approximately 45 minutes.
Where in the World is.....Solid Brass?
This is our newest program. We hit the road with maps, tubas and trumpets to go on a musical, geographical vacation - and you are invited! This multimedia, interactive program will thoroughly involve students. Listening skills and concentration are needed to determine the location being communicated through the music in this guessing "game" of Where in the World. SOLID BRASS takes the audience on a whirlwind musical tour of the 5 major continents that competed in the original modern Olympic games - the Americas, Africa, Europe, Asia and Australia - sharing a little about the culture and geography of each. The program includes rousing music, an exciting PowerPoint presentation, a description of sound production, and a review of the trumpet, trombone, tuba, horn and percussion. This show is so much fun that children will not realize how much they are learning. The following musical selections are included: Olympic Fanfare, Waltzing Matilda, British Grenadiers, Italian Tarantella, German Polka, La Marseille, Arab Dance, Chinese Dance, Russian Trepak, Bare Necessities, Hakuna Matata, Lonely Bull and America, the Beautiful.
Where in the Country is.....Solid Brass?
This program continues the travels of Solid Brass. Students will have fun and learn, in a unique way, a little more about America the Beautiful. The following musical selections will be included:


This is My Country
California Girls
America the Beautiful
Oklahoma
This Land is Your Land
Swanee River
You Are My Sunshine
Closer Walk with Thee/When the Saints
Take Me Out to the Ballgame
New York, New York
Solid Brass Quartet - Music on a Budget
SOLID BRASS offers all the programs you love designed for smaller budgets. Beat the Brass, Where in the World, Where in the Country, Music Meets the Presidents and Musical History of New Jersey are all available with the smaller ensemble for a lower price. The programs offer the same great entertainment and educational value - featuring music, humor, instrument demonstrations, audience interaction and a PowerPoint presentation (no PowerPoint in Beat the Brass).
Sound the Trumpet
In Sound the Trumpet, Doug Haislip demonstrates the various sized trumpets and their history from the conch shell and natural trumpet (1500s) to the modern day piccolo trumpet. Sound production and sound waves are discussed using a "hose-a-phone" and the variety of colors that mutes provide are also covered. Numerous musical examples are performed in an intimate, relaxed and entertaining PowerPoint multimedia presentation.
How to raise funds for a performance - Digital Download Cards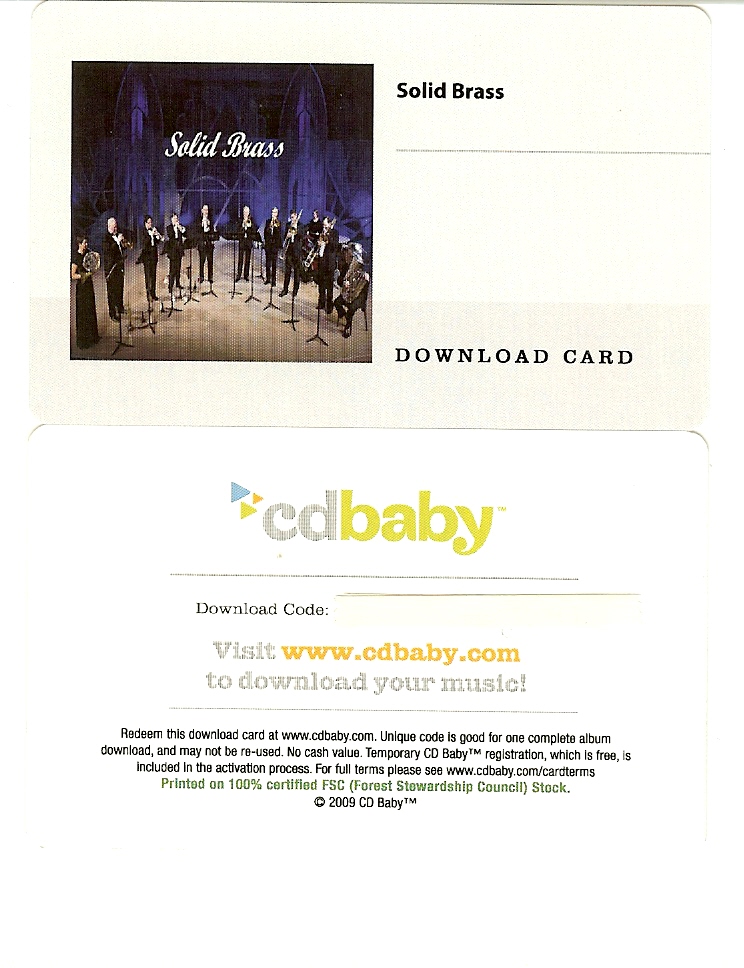 To help with the cost of a performance, we can provide digital download cards of a SOLID BRASS recording to you at $2 each. You can sell them as a fundraiser for any price you'd like (say $10). If you sold (maybe through your PTA) 200 cards, you would make a net of $1600, more than enough to pay for the assembly. You can use the additional funds for other educational needs. The best part of this offer is that there is no risk to you whatsoever! We will buy back any unsold cards.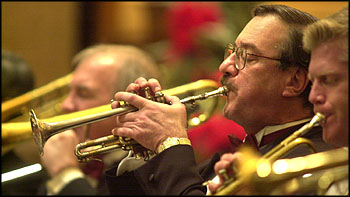 SOLID BRASS has provided programs and workshops to students all across the country as well as in Mexico and Canada. In addition to the K-8 program, SOLID BRASS has conducted workshops on rehearsal techniques and performance attitudes, arranging for the brass ensemble, repertoire, life as a professional musician, and various aspects of tone production and instrumental technique.

The ensemble has also performed for the Cub Scouts and youth organizations as well as Adult Communities. If you would be interested in having SOLID BRASS perform for your organization, please contact us.
Read what the students say about the educational programs:
Out of all the assemblies I ever had, you're the best! Come again.

I loved your music! My favorite was Beauty and the Beast because since I was a baby I loved that music...... When you guys were telling about Bach, I didn't even know he had 20 children! I learned so much today. I just want to learn more!. Thank you for everything! Come again.

It was really cool having people who made a CD in our school.

I really liked the way you played your instruments. I wish I could listen to you all day. You did really well. Thank you for coming.


---
Concerts
What to Listen For in Music - The Elements
Introduction to the Brass instrument family
Melody, Harmony and Bass
Historical perspectives
What to Listen For in Music - The Forms
Workshops
Workshops for established ensembles, student, amateur, or professional
Rehearsal Techniques and performance attitudes
Repertoire
Arranging for the brass ensemble
Life as a professional musician
Master Classes
Student, Amateur or Professional
Aspects of Tone Production
Solo literature
Ensemble Literature