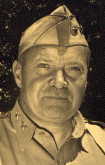 WADE H. HAISLIP was born on 9 July 1889 in Woodstock, Virginia. When he was two years old, his family moved to Staunton, Virginia, and he grew up there. Appointed to the Military Academy in 1908, he graduated with his class in June -1912 and was assigned to the Infantry. There followed a distinguished career which saw him rise from Second Lieutenant to General. He was a versatile and accomplished officer who could and did serve brilliantly as a commander, staff officer or administrator as witness the Distinguished Service Medals which he was awarded while serving in each such capacity.
---
The Early Years - Friendship with Eisenhower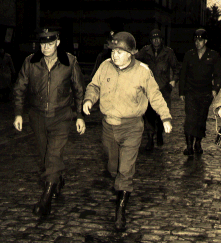 Within two years of his graduation, he accompanied his regiment, the 19th Infantry, as part of the Expeditionary Force to Vera Cruz, Mexico. Returning in the late fall 1914 to Galveston, Texas, he was transferred the following August to Fort Sam Houston. While serving there, he introduced Mamie Dowd to Second Lieutenant Dwight Eisenhower. Mamie subsequently became Mrs. Eisenhower and this no doubt contributed some measure to the strong bond of friendship which existed throughout the lives these two men. Ham was a pallbearer at President Eisenhower's funeral.
---
World War I - Leadership Training
With the advent of World War I, Ham as he was affectionately known to all friends and contemporaries, was promoted Major, National Army, in July 1918 sailed for France several months later. Initially, he was placed in charge of aerial gunnery training and later transferred to V Corp as Secretary of its General Staff. He participated in operations in the Vosges, in the St. Mihiel offensive and the Meuse Argonne offensive. Following the Armistice he served on General Staff of General Headquarters, American Forces in Germany at Coblenz.
He returned to the United States in August, 1921. During the interval between the two World Wars he first served as instructor at the United States Military Academy for two years. He attended all the schools a potential General is sent to including Advanced Course at Fort Benning (1924) the Command and General Staff School(1925 ) where he did so well that he was selected to attend the Ecole Superieure de Guerre (1925-1927). Returning from France, he took a brief two years out of his schooling to serve as Assistant Executive in the Office of Assistant Secretary of War. Upon termination of this assignment in 1931, he entered the Army War College at Washington, DC.
Nineteen thirty-two was an important year in Ham's life. He graduated from Army War College in June. On 14 July, he married Miss Alice Jennings Shepherd of Virginia. He then became an instructor at the Command and General Staff School at Leavenworth and served in this capacity until assigned to the 29th Infantry at Fort Benning in 1938.
Nineteen thirty-eight saw the shadows of World War II creeping our way. The position of Chief of the Budget and Legislative Planning Branch of the War Department General Staff began to assume added importance as the farsighted realized what a job lay ahead in preparation for our possible entry into the war. A top notch man was needed and the powers that be decided that Wade Haislip was that man. He served with this Branch for approximately three years and was awarded his first Distinguished Service Medal for his superior work.
---
World War II
Ham's first star came in January 1941 and with it an assignment as Assistant Chief Staff, G1, in the War Department General Staff. His second star was soon to follow and arrived in March of the following year. He was then assigned as Commanding General of the 85th Division with the mission of organizing and training it for combat. Before Ham could get his division overseas, he was given command of the XV Corps, but from both reports and personal observation later on he had reason to feel highly satisfied with his former division's performance in battle. He received his second Distinguished Service Medal for the organization and training of the 85th Division.
Initially the XV Corps acted as Headquarters of the Desert Training Center. Its commander was Commanding General of the Center and was responsible for the reception, training, and re-equipping of the many divisions which passed through en route to a theater of operations. The task eventually ended and the Corps sailed for the European theater in December 1943. It became operational on the continent of Europe in July 1944.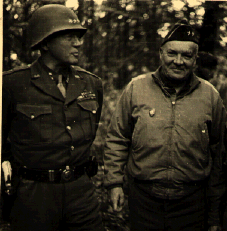 Under the Third Army, it exploited the break-through at Avranches and passing rapidly behind the Germans, turned north and captured Argentan thus forming the southern front of the Falaise Gap. Later it established the first bridgehead across Seine River. It was the first Allied corps to reach the Rhine River when it captured Strasbourg. On 26 March 1945 the XV Corps effected a crossing of the Rhine and then drove across Germany and into Austria at Salzburg, sealing off Hitler's redoubt at Berchtesgaden. VE Day arrived. The XV Corps had fought its way 1200 miles across the Continent of Europe and Wade Haislip well earned his third Distinguished Service Medal which was shortly awarded to him. Incidentally, he received his third star on 15 April 1945.
An interesting sidelight of the XV Corps' advance across Germany was its liberation of King Leopold of Belgium whom the Germans had taken as a hostage when Belgium resistance collapsed. King Leopold and his beautiful consort, Princess Lilian Derethi, were most appreciative of their freedom and most cordial in their reception of General Haislip. In later years after the war, they visited this country and made a special point of calling on Ham and Alice.
---
After the War - Vice Chief of Staff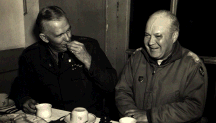 In June 1945 Ham was given command of the Seventh Army. But the need for capable administrators back in Washington was urgent. Demobilization was beginning and the necessity for establishing our Army on a new peacetime basis was paramount. So in August 1945 the call went out for General Haislip to return to the United States. There followed a series of high staff assignments, the first of which was President of the Secretary of War's Personnel Board. This was followed in 1946 by assignment to the Chief of Staff's Advisory Group. In 1948 he became Deputy Chief of Staff for Administration and one year later, 1949, became the Vice Chief of Staff of the United States Army. His promotion to General promptly followed. The then Chief of Staff has said that Ham relieved him completely of the day to day administration of the Army. While serving as Vice Chief of Staff, Ham had the honor of serving as President Harry Truman's personal representative in Mexico City during the ceremonies surrounding the return of the Mexican Regimental Colors captured during the Mexican War. The Mexican Government and people were highly appreciative of this gesture on the part of our government and Ham and his party were given a royal reception.
Governor of the Soldiers Home
As it does sooner or later to all of us, retirement caught up with Ham and on 31 July 1951 he was placed on the retired list with the rank of General after thirty-nine years of active duty. But his service to his country was far from ending. It appeared that a large expansion of the Soldiers Home was needed and a man of proven administrative ability was sought to plan and supervise this expansion. The search didn't need to go far, for here was Ham just joining the retired list and eminently qualified to undertake the job. Ham responded to the call and immediately assumed his duties as Governor of the Soldiers Home. He spent fifteen years in this position, which adds up to a total of fifty-four years in the service of his country. During his tenure, the physical plant as well as the number of occupants of the Soldiers Home trebled. Ham never closed the door to his office while Governor, and any of the old soldiers could and did walk in at will to talk over their problems with the General. Naturally he was popular with his charges and they hated to see him go when he retired from the Governorship in 1966. His fourth Distinguished Service Medal was conferred for his service as Governor of the Soldiers Home.

He and Alice then took up residence at 2101 Connecticut Avenue. They became very popular in the diplomatic set. Both had gardening as a hobby. Alice had her flowers but Ham had a green thumb with vegetables. Anyone who was lucky enough to get some of his tomatoes will never forget them.
This idyllic existence was interrupted in early November 1971 when Ham was taken to Walter Reed Hospital with internal pains. He was apparently doing well after surgery when he suffered a stroke. He died on 23 December 1971 and was buried in Arlington National Cemetery on 27 December 1971 with full military honors.